Exterra Baiting System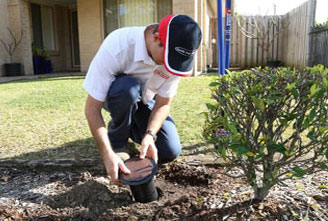 Until recently, the only methods available for subterranean termite control were the traditional barrier treatments using large amounts of chemicals. There are alternative termite control strategies, baiting systems are the most promising as to replace barrier treatments.
Termite baits are a whole different concept. With this approach, small amounts of material known as the toxicant knocks out populations of termites foraging in and around the structure.
Some homes may have only baits as a "stand alone treatment", others may be integrated with liquid or barrier treatments. Using a baiting system with barrier treatments will allow a reduction of amounts of pesticide use.
No termite control method can guarantee you will never get termites. Termite control may include a combination of one or more of these methods, a baiting system, termiticide treatment, moisture control, foaming, removal of earth wood contact and etc.
Termite baiting is a simple process and can be used as a preventive measure to detect termites where they are not yet a problem.
OVERVIEW OF THE TERMITE BAITING PROCESS
Termite baiting concept made simple:
FIRST:
Establish a solid feeding cycle between the bait stations and the termite colony by "prebaiting", Placing monitoring stations that include a wood monitor or inspection cartridges in the soil. You establish this by allowing the foraging termites eat the wood, "sourcing out" the feeding source.
If you were to put our the "active" or "toxicant" at this point you would kill off the very workers that you need to establish the cycle. Once the termites start eating on that wood or the inspection cartridge, introduce the toxicant or active.
THIRD:
Termites eat this particular bait, feeding it to the entire colony….and in THEORY the colony dies and the complete colony is eliminated.
Currently, there is no way to substantiate claims of "complete"colony elimination.
Laboratory tests do suggest that colony elimination is possible..but in reality they may have multiple food sources, the poisoned bait not being the only food source.
Population reduction and not population elimination is more likely the true story. In laboratory tests…termites are confined to a test site given only the bait as the choice of food. This is not a reality with multiple food sources,buried tree stumps, etc.
However with proper monitoring and bait placement the termites will consume it,resulting in a population reduction! Because of the smaller population level you would find less stress from the termite colony, resulting in less feeding and less damage.
It can be a valuable tool. Termite baits are an added measure of security and are best used in conjunction with the traditional soil treatments if you have a current infestation .
In infested structures, it is best to treat the area where termites are found with the barrier / traditional soil treatment. You would be cutting off the termites' current food sources (your structure), forcing them to find other sources for food ( the bait for example). However, you don't place the bait and the liquid termiticide in the same place.